On campus

Academic year
Registration fees: -478.10€- at Master Degree (in 2017-18), including social security.
Duration: 1st semester: from September 1st to January 31st; 2nd semester: February 1st to June 30th.
Holidays: autumn break (end of October, 1 week), winter holidays (2 weeks in December-January), winter break (1 week in February), spring break (2 weeks in April-May).
Survival guide: International students will find useful information in the "survival guide de l'étudiant international à Lille". This bilingual guide was created by the Erasmus Student Network. It will give you valuable hints about the first formalities, the university, Lille and its Region, social, cultural and sporting events.
VISA: information on the website

of the French Ministry of Foreign Affairs, or your Campus France office

.
Costs
Housing : from 210 €/month for a room in the Crous Residence Halls, to 500 € for a furnished studio flat in the Reeflex Residence

.
Meal : 3.20 € per meal
Local Transportation : 30€/month
Optional supplementary health insurance : from 85 € to 300 €/year
Lilliad Learning Center
Discover our brand new library "Lilliad"

.
Lille Region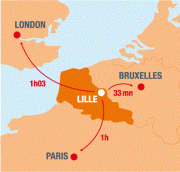 Welcome ceremony: each year, the Region Hauts-de-France welcomes international students in Lille1: watch the video

More about Lille City and the Region on France.fr (official website for tourism in France) and Lille tourism office.